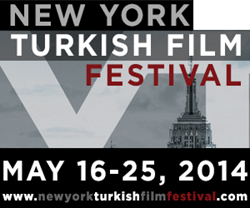 New York, New York (PRWEB) May 14, 2014
The Moon and Stars Project, the arts & culture program of The American Turkish Society, is proud to present the 13th New York Turkish Film Festival. The festival will be held on May 16 – 25, 2014 at the School of Visual Arts Theatre. This years festival will build upon the success of A Space Between: A Panorama of Cinema in Turkey, a major retrospective of cinema from Turkey that featured twenty-nine films from 1958 to the present, which was co-presented by The Moon and Stars Project and The Film Society of Lincoln Center in 2012. This year, the film festival is made possible by its signature sponsor, Chobani, LLC, maker of Americas No. 1-selling Greek Yogurt brand, among other contributors.
Turkeys cinema is as rich and complex as is its society, history, and culture, and film opens a unique door to understanding this inspiring country. Believing in the power of cinema to bridge cultures, The American Turkish Society offers this valuable program to a growing audience each year, while also supporting and promoting the filmmakers of Turkey. This years festival will screen a selection of nine remarkable feature films, including two inspiring documentaries, and two collections of short films. The selected films address diverse themes such as poverty in the neighborhoods of Istanbul that have been subjected to gentrification, romance and human connection that transcend national borders, and identity issues concerning immigrant children.
Opening night kicks off on Friday, May 16 with the New York premiere of the visually stunning Butterflys Dream (2013) directed by Ylmaz Erdoan, Turkeys Oscar nominee for 2013. Mert Frat, one of the lead actors in the movie, will be present in person for a Q&A session after the screening. On the following day, tickets to either of the screenings, Yozgat Blues or Ships, include admission to the New York Turkish Film Festival Reception in the lobby of the SVA Theater from 7:00 – 8:30 p.m. on Saturday, May 17. The director of Yozgat Blues, Mahmut Fazl Cokun, as well as the director of Ships, Elif Refi, will be joining in person for Q&A sessions following their respective movies.
In addition to the seven other feature films, the festival will also feature two documentaries followed by panel discussions: My Child, an ambitious documentary by Can Candan, which sensitively explores the difficulties faced by families with LGBT children, and Girls of Hope, by Ayeg