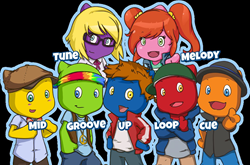 San Antonio, Texas (PRWEB) March 26, 2015
Geeh the Band announces the release of its first four music videos for children on its new App. Following closely behind the release of its third album, EVOLVE, coming out this 2015, the release of music videos on its App at no charge offers even more mobile music and video media options with positive messages for families.
Designed for tech-savvy kids ages 4-10, this new App is robust and easy for kids to use. Fans can download videos and then play the first two albums of music. Videos available for viewing and download right now are "Summer Time," "Everytime" and "Heaven" from the first album HEAVEN and "Well Make the World Shine" from the FIERCE album.
The band is developing a downloadable code that will allow fans to get all 12 of the music videos currently in development. When a manufacturer licenses the Geeh characters for their product, their customers then receive the code to download music, enhancing the licensors brand by delivering quality kids music with their products. This adds value and goodwill to brands through kid- and parent-friendly music, stories, and videos.