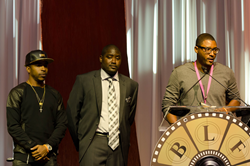 Atlanta, GA (PRWEB) December 01, 2014
BronzeLens Film Festival (BronzeLens) 2014 winners were announced at the BronzeLens Awards Show ceremony held at the Atlanta Marriott Marquis where the Best of Festival filmmakers in their perspective categories received top honors. Award winning film categories included the Feature, Documentary, International, Short, Documentary Short, Student, Webisodes as well as Best Actress, Best Actor, Best Overall and the Audience Awards.
Of the 43 juried films screened, a panel of 14 judges selected the work of filmmakers representing the United States, Africa and South America to receive BronzeLens Awards. This year BronzeLens Awards prizes were enhanced by generous sponsor contributions. SIM Digital provided an Arri Light Kit gear package and color correction valued at more than $ 30,000 for the Best Overall winner, BET Networks presented $ 5000 for Best Short, the ASPiRE Television Student Award included a network internship and Entertainment Partners gave budgeting and scheduling software to the Best Feature and Best Documentary filmmakers.
It is a privilege to showcase the work of some of worlds best and brightest filmmakers at BronzeLens, said Deidre McDonald, BronzeLens Film Festival Artistic Director. Their creativity and passion inspires us to continue to serve as champions of the industry.
The 2014 BronzeLens winners, awards and films synopsiss are as follows:
The Best Overall -Best Feature-: CRU

(Producer: Danny Green, Alton Glass, Courtney Triggs, Matthew Hatchet, Oliver W. Ottley III, Director: Alton Glass)

Nearly twenty years after a tragedy, the reunion of four high school friends opens old wounds, exposes long-hidden secrets and paves the road to forgiveness and redemption.
Best Documentary: Lifes Essentials With Ruby Dee

(Producer: Jevon NJ Frank, Director: MutaAli Muhammad)

In this open-letter style documentary, Ruby Dee & Ossie Davis rich lives guide their grandson on his personal quest to master lasting love conscious art, and undying activism.
Best Webisode: Good Girls

(Producer: Kai Parham, Asia Lampley , Director: Rhavynn Drummer)

Four young women in pursuit of love and success in Atlanta, maneuver through their blossoming individuality and moral upbringing.
Best International: They Are We

(Producer: Emma Christopher/Sergio Leyva Seiglie, Director: Emma Christopher)

A family separated by the transatlantic slave trade for 200 years sing and dance its way back together? THEY ARE WE tells how, after a set of remarkable discoveries, Cuco and Alfredo set out to do just that, and how Joe and Solomon welcomed them home.
Best Student: Little Africa

(Producer: Curtis Adair, Director: Justin Oney)

During the massacre of the 1921 Tulsa Race Riot, a biracial cop passing as white protects his black mother from the town genocide.
Best Short: Hero Mars

(Producer: Susan Chapman, Director: Skyler Cooper)

A down and out actor gets the chance of a lifetime to audition for a world class theater company but struggles against misconceptions, hostility, and ignorance in their quest to gain acceptance.
Best Short Documentary: The Helen Lindsey Story

(Producer: Maria Howell, Director: Mike Ray)

Courage, Determination and WILL, only partially describe Helen Lindsey and the journey shes traveled with no limbs. Her story will change YOUR life forever.
Best Actress: Rain Pryor for That Daughter's Crazy

(Producers: Sam Adelman and Daryl Sledge, Director: Elzbieta Szoka)

Some apples dont fall far from the tree. That Daughters Crazy, directed by Elzbieta Szoka and produced by Paradox Smoke Productions, is a portrait of actress/singer Rain Pryor, daughter of legendary comedian Richard Pryor.
Best Actor: Keith Robinson for CRU
The winners of the Audience Awards, determined by audience votes throughout the Festival are:
Best Feature: CRU

(Producer: Danny Green, Alton Glass, Courtney Triggs, Matthew Hatchet, Oliver W. Ottley III, Director: Alton Glass)
Best Documentary: Lifes Essentials With Ruby Dee

(Producer: Jevon NJ Frank, Director: MutaAli Muhammad)

Best Short: THE B WORD

Producers: Nakisha Celistan and Nichole Celistan, Director:Jermaine R. Spencer

THE B WORD is a cinematic short narrative depicting two sisters on conflicting paths; both leading to a destructive cycle of fear, blame and uncertainty. The story is set around the disease of Bulimia Nervosa.
Best Student: Little Africa

(Producer: Justin Oney, Director: Curtis Adair)
About the BronzeLens Film Festival

Founded in 2009, The BronzeLens Film Festival of Atlanta, Georgia is a non-profit organization dedicated to bringing national and worldwide attention to Atlanta as a center for film and film production for people of color. Its mission is twofold: to promote Atlanta as the new film Mecca for people of color; and to showcase films and provide networking opportunities that will develop the next generation of filmmakers. Since its inception the BronzeLens Film Festival has evolved as one of the most comprehensive film festivals for filmmakers of color in the United States. Visit http://www.bronzelens.com for more information regarding the BronzeLens Film Festival and future updates.
###
Find More Crazy Girl Friend Press Releases