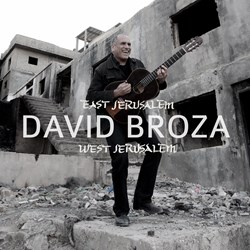 San Rafael, CA (PRWEB) December 31, 2013
In January 2013, Israeli Singer/Songwriter David Broza embarked on a life-long dream to record songs on the Palestinian side of Jerusalem with musicians from Palestine and Israel. With the help of American producers Steve Earle and Steve Greenberg, Broza delivered a stunning piece of work that documents his amazing journey in the form of 14 inspiring recordings- A documentary based on the making of he album will be released in the Spring of 2014.
On January 17, David will discuss this journey and his career, in a casual and intimate gathering in the Hoytt Theater at the Osher Marin JCC.
David Broza has been considered one of the most dynamic and vibrant performers in the singer/songwriter world. He fuses the 3 countries where he was raised: Israel, Spain and England, into music that ranges from flamenco flavored rhythmic and percussion techniques, to whirlwind finger picking, to a signature rock and roll sound. His troubadour tradition of featuring the lyrics of the worlds greatest poets adds a dynamic depth and intimacy into his performances.
VIDEO

David Broza (Whats so funny bout Peace Love & Understanding)

Together with Israeli, Palestinian and American musicians, this video was created pursuing his life-long dream to transform reality with the power of music. Joining him is the Jerusalem Youth Choir, the only choir that includes Palestinian & Israeli teens.

This is a FREE event, open to the public, and to all ages. Pre-registration at: marinjcc.org/broza is encouraged to ensure seating.
WHAT: