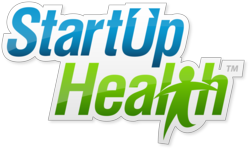 New York City, NY (PRWEB) September 19, 2012
StartUp Health announced the addition of 12 Healthcare Transformers who were selected to join its rapidly growing national academy for health and wellness entrepreneurship. StartUp Health, which launched in June 2011 at HHSs Health Datapalooza in Washington, DC, now includes a portfolio of 22 of the nations leading early stage and growth companies in digital health and wellness. These extraordinary and passionate entrepreneurs and innovators (Healthcare Transformers) are collectively on a mission to solve one of the great challenges of our time: fixing a broken healthcare system in ways that significantly reduce costs and dramatically improve care.
After reviewing hundreds of applications, it was incredibly difficult to narrow it down to these 12 amazing teams, said Unity Stoakes, co-founder and President of StartUp Health. The Healthcare Transformers selected to join StartUp Health Academy represent an experienced group of leaders who are building a new wave of solutions across a broad spectrum of health and wellness innovation.
To really move the dial and and maximize growth, we have designed StartUp Health Academy as a unique long-term program and a more efficient way for health entrepreneurs to navigate the dips and leverage opportunities as they grow their business, said Steven Krein, co-founder and CEO of StartUp Health. The Academy is structured as a three-year curriculum with strategic thinking workshops and collaborative peer groups designed to help innovators navigate business challenges. We believe there is great power in these networks and in the model of bringing together the community of innovators, customers, investors, and partners we have organized to transform healthcare.
In addition to being a long-term program, one of the wonderful things that attracts great entrepreneurs to apply to our program is that we are both location and stage agnostic, explained Krein. In our second class of Healthcare Transformers, six teams are located on the East Coast and six on the West Coast. The companies in this class, which includes four women founders, four serial entrepreneurs and five physicians, are already beyond the Idea Stage, with founding teams in place, initial financial backing, and early user or customer traction. All have already received seed funding or financial support via venture capital, angel investors, grants, or customer revenue. And four of the companies have been participants in one of the digital health seed accelerators.
Healthcare Transformers added in September 2012 include:
Avado – Dave Chase and Bassam Saliba

Dave and Bassam are entrepreneurs on a mission to make it easier for patients and providers to communicate. Together, Dave and Bassam co-founded Avado (@avado), a Patient Relationship Management system dubbed "GPS for Healthcare" that is the next generation, EHR-neutral patient portal built for the new requirements facing healthcare providers such as medical homes and Accountable Care Organizations. In addition to his role as CEO of Avado, which is headquartered in Seattle, Dave is co-editing and writing a book for HIMSS on patient engagement and is a regular contributor to Reuters, Forbes, and TechCrunch. Previously, Dave founded Microsoft's healthcare platform business leading it to be the underlying technology for the majority of healthIT systems. Bassam, CTO of Avado, has held leadership roles in companies such as Microsoft, Scalix Corporation, and Fidesic including selling one business to CheckFree for $ 1 billion. Learn more at avado.com.
Beyond Lucid Technologies – Jonathon Feit and Christian Witt

Jonathon and Christian are entrepreneurs on a mission to improve emergency care by putting digital innovations in the hands of EMTs and Firefighters. Jonathon (CEO) and Christian (President & CTO) co-founded Beyond Lucid Technologies (@jonathonfeit / @beyondlucid). The company's MEDIVIEW Platform is designed to connect First Responders with care facilities, including Accountable Care Organizations. It is the first electronic patient care record system built specifically for disaster management, including integrated satellite-based GPS that works both online and offline (i.e., if the network shuts down), and telehealth capabilities that let providers access prehospital data within 30 seconds, making patient pre-registrations possible. Jonathon and Christian co-founded Beyond Lucid Technologies in 2009, while completing their MBAs at Carnegie Mellon University, which is an early investor in the company. Dell and Microsoft are partners, the company received an NIH grant in 2010, and participated in Rock Health. Learn more at beyondlucid.com.
CakeHealth – Rebecca Woodcock

Rebecca is an entrepreneur on a mission to help people save money on healthcare by bringing transparency to health expenses. Rebecca is the founder and CEO of CakeHealth (@cakehealth), a free web service that makes it easy for people to understand and manage all their health expenses. Rebecca was recently named as one of "15 Women in Tech to Watch in 2012″ by Inc. Magazine. CakeHealth, based in San Francisco, is a Rock Health graduate and has raised seed funding from prominent investors such as 500 Startups, George Zachary and Kirill Sheynkman. Learn more at cakehealth.com.
CareLinx – Sherwin Sheik

Sherwin is an entrepreneur on a mission to leverage technology to disrupt, disintermediate and improve the entire in-home caregiving service delivery industry. Sherwin is the founder and CEO of CareLinx (@carelinx), an online professional caregiver network that provides solutions to help consumers & institutions easily find, screen, manage and pay caregivers who match their specific needs and budget. CareLinx is well positioned to capitalize on the growing demand for caregivers with the aging of our population. CareLinx, headquartered in San Francisco, has raised $ 1.5 million to date and has several thousand caregivers in its network across the United States. Prior to founding CareLinx, Sherwin was a successful healthcare analyst and trader at a Hedge Fund. Learn more at carelinx.com.
CarePlanners – Alan Blaustein and Nancy Snyderman, MD

Alans passion for healthcare solutions began with his thymic cancer diagnosis in 2005. Frustrated with the limited resources available to effectively navigate the healthcare system, he leaned on his longtime friend Dr. Nancy Snyderman, NBC's Chief Medical Editor, for support. After Alan's recovery, the friends realized there was a need for a service to help patients and caregivers make better decisions amid the healthcare systems many complexities. In June 2012, they launched CarePlanners (@careplanners) to provide patient and caregiver navigation, coordination and organization solutions through a nationwide team of healthcare experts (e.g. – registered nurses, social workers, Medicare experts, insurance and billing specialists, and other healthcare advocates) and a sophisticated set of online decision-making support tools. CarePlanners is headquartered in New York City. Alan, an attorney to the burgeoning Internet marketplace in the late 1990s, was also one of the Internets earliest entrepreneurs, holding senior leadership positions at About, Flexplay, and OpenSky. Dr. Nancy Snyderman is a surgeon, a caregiver, and a journalist. Learn more at careplanners.com.
Chemotopia – Steven Eisenberg, MD

Steven (@drseisenberg) is a serial entrepreneur and physician on a mission to make cancer suck less. Chemotopia (@chemotopia), headquartered in San Diego, CA, is the first application that prepares patients for every aspect of the journey through chemotherapy treatment. Chemotopia offers a supportive community of real patients helping and learning from one another and timely and pertinent information for cancer patients as they go through the different stages of chemotherapy. Steven is also a co-foun
Find More Shut Up Lyrics Press Releases